HMK-CD2 Laser Particle Size Analyzer
Nov 2, 2017
Overview
HMK-CD2 Laser Particle Size Analyzer is designed according to international standard ISO 13320. It is a new generation of particle size analysis instrument integrating laser technology, computer technology and photonics technology inside only one body. As a highly-intelligent and fully automatic laser diffraction particle size analyzer, HMK-CD2 Laser Particle Size Analyzer uses full-scale Mie scattering theory and special technique for particle size distribution analysis and calculation. The ultrasonic system, dispersing system and agitating system are placed inside of the host. For a unit with size range as broad as from 0.02 to 2000 micrometers such design effectively reduces the instability during the circulating process and considerably increases the accuracy. Even if a lot calculations will be carried out, the test speed is fast, each sample measurement can be finished within 1 minutes,The signals are automatically generated, transmitted and the results are automatically saved for a user-friendly view or print by the operator.
Pictures
2017-10-31 laser particle size analysis
2014-06-10 HMK-CD2 laser particle size analyzer flow cell washing
2014-02-05 HMK-CD2 laser particle size analyzer packed up
2012-08-01 HMK-CD2 laser particle size analyzer host
Applications
Particle size distribution of particles or emulsions: chemicals, electronic materials, battery materials, pesticides, pigments, pharmaceuticals, titanium dioxide, ceramics, building materials, cosmetics, abrasives, paint/pigment, food, calcium carbonate, talc, kaolin, paper, aluminum oxide, rare earth catalyst, blowing agents, refractory, cement, graphite, etc
Features
HMK-CD2 integrates optical parts, electronic integrated circuits, ultrasonic dispersing, agitating and fully automatic cleaning in only one body. The alignment is done automatically under the controlled of the computer. Sample stays short time in the tube in order to prevent the leveling or re-agglomerating of the particles. The repeatability and stability of HMK-CD2 amounts to those from advanced foreign instruments in the world.
Advanced molding process gives HMK-CD2 a compact and reasonable structure. Measurement system and feeding system are perfectly organized under a cover of elegant appearance. HMK-CD2 is easy to use and maintain. Latest anti-jamming technology contributes to the electrical stability and reduces the failure rate.
A particle size analysis system is build up by HMK-CD2 and any LAPTOP or DESKTOP connected to each other by serial data transmission port. Such design bids farewell to the traditional board connection.
Windows compatible software has user-friendly interface and easy operation. Simply click on the Auto Test, then add samples into the tank, all the test procedures including parameter selection, alignment, background test, obscuration adjustment, signal collection, data analysis, results calculation, output, circulating system cleaning are automatically done by the unit under control of the computer. Functions such as result save, query, compare, edit, delete are very easy to do.
Six formats of result analysis report show cumulative particle size distribution data and graph, differential particle size distribution data and histogram as well as typical point results such as D3, D10, D25, D50, D75, D84, D90, D97 etc.
SOP (Standardized Operational Procedure) are available for different samples, it includes R.I. (Refractive Index), particle size distribution model, concentration/obscuration, ultrasonic time, sampling time, circulating rate, cleaning time etc in order to optimize the accuracy, stability and repeatability..
Anti-vibration and dust-proof technique is applied in designing HMK-CD2 in order to stay safe during transport or capability to work in robust environment.
Specifications
Measuring range
0.02µm~2,000µm
Tank
Stainless steel Vol.500ml

Accuracy

High measurement precision:
D50 error range <±1%(National Certified Reference Material)
Light source
Laser diode 632.8nm 3mw >20,000h
Light path
Parallel light path design comply with ISO13320 and ISO13321
Detector
Multi-element detectors in 80 grades are arranged in front, back and side positions, detection angel up to 165 degree
Sampling Method
Wet
Dispersion
Integrated ultrasonic 60W, adjustable time of ultrasonic, agitating, circulating etc.
Agent
Tap water, distilled water or other specified agent
Sample Qty.
mg to g
Data process
Mie scattering theory and special analysis software, RS232 serial port communication connection
Result output
Table and curve of particle size distribution, D10, D50, D90, D97, averaged particle size and specific surface area. etc
Test method
Automatically finished by software, after adding sample into the tank, the computer starts dispersing and agitating as well as ultrasonic; the suspension is circulated to the testing zone. After test the cleaning is also fully automatic.
Power
AC220V/110V ± 10% 50Hz
Environment
Clean, temperature 0-40℃
Dimension
W840×D370×H460 mm 38kg
Configuration

—HMK-CD2(optical system, dispersing and circulating system) 1 set

—Special analysis software 1 set

—Power supply cable and data cable 1 set

—Tool kit 1 set

—User's Manual and documents 1 set
Other Size Analyzer
AS-2011 Laser Particle Size Analyzer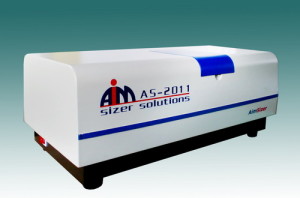 AS-2012 Laser Particle Size Analyzer
HMK-CD1 Liquid And Dry Laser Particle Size Analyzer
HMK-CD2 Laser Particle Size Analyzer
HMK-CD3 Dry Laser Particle Size Analyzer
HMK-CD4 Nanometer Photon Correlation Spectroscopy Particle Size Analyzer
HMK-CD5 Laser Particle Size Analyzer
HMK-CD6 Spray Laser Particle Size Analyzer
HMK-CD7 Image Particle Size Analyzer
Frequently Asked Questions
What does a size range of a particle size analyzer represent?
-Check the size range of a particle size analyzer, usually broad size range gives the particle size analyzer a wider applications.
What is a particle, does it only mean a solid particle or what are other particles?
Particle is a minor object in separate state, it could be solid, liquid, gas, also it can be living microorganism, bacterial or even virus and so on. But in most cases when we say a particle, we mean a solid particle and we call liquid particle or air particle droplet and bubble respectively.
What is the difference between particle ensembles and powder?
Particle ensembles are particle group made up of many particles. Powder is a piling up status of solid particles in bulk state.
What is the significance of particle size?
The particle size is significant to the properties and quality of products, it also influences the energy consumption, environmental polution, human health, global climate change as well as the growth of living things.
Reference User List
UNIVERSIDADE FEDERAL DE LAVRAS
University of Moratuwa
Belmont University College of Pharmacy
Tags:
particle size