You are here: Home > HMKMill, Lab Mill > HMK-1901 Planetary Ball Mill
HMK-1901 Planetary Ball Mill
Last Update: June 1, 2017
Planetary Ball Mill
HMK-1901 Planetary Ball Mill is designed and manufactured for requirement of fine milling industry.It integrates all traditional mixing and size reduction process and at the same time. HMK-1901 planetary ball mill uses high centrifugal forces to generate high pulverization energy. It works efficiently and takes very short grinding times.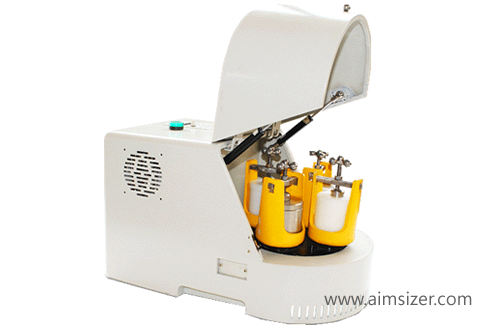 Specifications
-Working Principle: impact and friction force
-Compatible Grinding Jars: (50ml /100ml) * 4
-Max Feeding Capacity: 2/3 capacity of the grinding jar
-Operation Mode: 2 or 4 grinding jars working simultaneously
-Feeding size: Soil materials < 10mm, others materials < 3mm
-Discharging size: down to 0.1μm
-Sample Type: hard, medium-hard, soft, fibrous, brittle, moist, tough
-Rotational Speed of Grinding Jar: 800rpm
-Rotational Speed Ratio (planetary disk/jar): 1 : 2
-Drive Mode: gear drive and belt drive
-Speed Control: stepless speed regulation
-Electrical Details: 110V/220VAC, 50/60Hz, 0.25 kW
-Max Continuous Grinding Time (full-load): 72hours
-Weight (Net /Gross): 30KG /35KG
-Dimension (L*W*H): 502*300*296mm
-Package Size: 570*360*420mm
Features
-Elegant design, easy to operate
-Ideal for wet or dry grinding operation
-Energy and speed control enables reproducible results
-Automatic and programmable control with LED display
-Multiple grinding modes to choose
-High uniformity and excellent repeatability
-Fast rotational speed, high efficiency and fine granularity
-Programmable interval and pause times
-Four samples with different sizes and materials in one experiment
-Stepless speed regulation; reversing function
-Large range of materials available for grinding media
-Gear-drive offers an effective solutions to problems caused by belt driving, such as belt creep and belt abrasion
-Low center of gravity, good rigidity, compact structure, low noise, safe and reliable operation, no pollution and small wear
-Cooling of the grinding chamber with a built-in fan for long grinding times
Applications
Alloys, bentonite, bones, carbon fibres, catalysts, cellulose, cement clinker, ceramics, charcoal, chemical products, clay minerals, coal, coke, compost, concrete, electronic scrap, fibres, glass, gypsum, hair, hydroxyapatite, iron ore, kaolin, limestone, metal oxides, minerals, ores, paints and lacquers, paper, pigments, plant materials, polymers, quartz, seeds
-How many types of planetary ball mill?
According to structures and performance of planetary ball mills,products of planetary ball mills of AimSizer are divided into four types such as vertical planetary ball mill,horizontal planetary ball mill,full-directional planetary ball mill and dual high speed planetary ball mill
Planetary Ball Mill News
2017-5-29 How Many Types Of Planetary Ball Mill?